Curry leaf plant is also known as Murraya koenigii, which is native to India. It used to prepare delicious south Indian food. Curry leaves have a great aroma, which will always be a special ingredient for your food.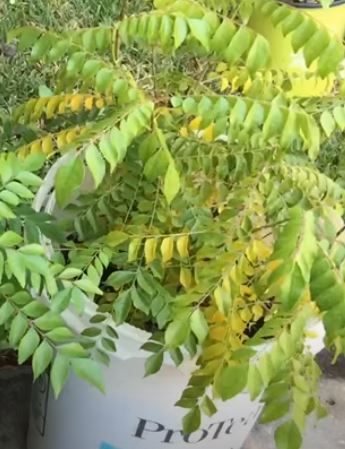 Curry leaves plants to need full sun for good growth, It needs at least five to six hours of exposure to sunlight. If you stay in the place where winter is so chill and freezes. you need to plant it in the pot (needs to move inside when freezing ) otherwise it won't survive.
If you don't give enough sunlight it will reduce the growth of plants. If you don't give light at all then it enters the winter dormacy and stops its growth and making all of its leaves droop and fall.
Here are the steps that you can follow if you cannot give enough sunlight to plant.
1. Mulching Curry Leaves Plant
Start mulching around the curry leaves plant in the mid frost before the first fall, use waste wooden chips, straws make a thick layer of mulch about 3 inches to protect from winter.
Extend the mulching to 3 to 4 feet around the curry leaves plant to protect it better.
wood chip mulch prevents soil moisture loss and insulates roots to absorb more heat.
Water the curry leaves plant once every week late fall throughout the winter before the freeze, water the soil, and put some more mulch on top of that this helps in warming the ground, making more warmer for the plant.
2. Placing Of Curry Leaves Plants In Frost Resistant Spot
It is true for plants as it is for real estate, good location plays an important role. keep the seedlings, curry leaves plants in areas that are less likely to experience damaging cold.
cold air moves from higher ground to lower ground so it will pass the plants located on the higher side of the ground or slopes. That's why the best place to keep plants in a less susceptible place to frost in these elevated regions.
Keeping the plant near benches, walls where there is a dark color, particularly if they are south or west facing provides additional protection.
During the day structure absorb heat from the sun and throughout the night they radiate the heat. This helps the Curry leaves plant
3. Giving Curry Leaves Plant Most Of Sunlight During Day
Curry leaves plants or trees are native to India, so when you try to grow these plants or trees where it freezes in winter, need to take additional protection for the plant.
Here are some of the items which you can cover the Curry leaves plant in winter
Bed sheets / blankets
drop clothes
cloches
milk jug with bottom cut out
inverted flower pot or bucket
frost clothes
Garden blankets such as reemay
Remember that covers need not be expensive, just cover the trees with a blanket upside down and you will be good to go. If you need you can connect sticks on the ground to make a blanket not to slide off from the plant or tree.
4. Covering Curry Leaves Plant Before Night Fall
If you are planning to cover the curry leaves plant before the hard frost, or coldly winters. Do it before dusk so that heat will not be dissipated in your garden. if you do it after dusk most of the heat will be dissipated before you even put up the blankets or any material that you are trying to cover.
make sure you are extending the blanket till it reaches the soil on each side, if you can it is advisable to use stakes to keep the material, especially plastic from touching the foliage.
In the morning after the frost has thawed, remove the blanket. otherwise, it will cause the plant to break dormancy and start growing again. which makes the plant more likely to frost damage in the future.
5. Warming Up Curry Leaves Plant With Water Jug Method
Fill up the water jug with water in the morning and keep it outside.
Idea is to get the water heated and before dusk, you cover the jug with plastic which will help the water to get cold slowly and emits hotness, and keeps the plant warmer.
6. Protecting Curry Leaves Plant With Cloches
strictly speaking, cloches are made of glasses or plastic cover that protects plants from cover. most often it covers individual plants, sometimes also covered for the whole row.
These are placed on plants before the sun goes down. removed back in the morning once the sun rises up.
Plastic cloches are less expensive compare to glass ones. They are also less weight but they must be staked on the ground to prevent them from blowing away from high winds.
Pro Tip

Keep Cloches Staked Down
Stake lightweight cloches into the ground to prevent them from blowing over.
7. Wrapping Curry leaves Plant
Be sure to wrap the trunk of the curry leaves tree/ plant in the fall with burlap strips or tree wrap. The most tree has thin barks so when the temperature drops drastically there are chances of splitting. so this tree wrap helps the curry leaves plants to not split when the temperature drops drastically.
You can wrap up with many layers depends on cold temperature, wrapping should touch the ground to till the limbs, branches of plant/tree. don't keep the cover too tight.
Unlike covering the whole tree wrapping can be kept the whole winter season.
8. Moving The Curry Leaves Plant To The indoors
If you planted your plant in pots if there is a chance to move your plant inside, move inside and give the south-facing sun to warm up the plant, cut down on the water.
once the frost is over you can keep it back curry leaves plant outside
9. Removing Weeds Under Curry Leaves Plant
Remove turf/weeds from under tree canopies, this helps the plant or tree to absorb more heat.
Bare soil absorbs and reflects soil best compared to which have weeds.
10. Cut down on Watering Curry Leaves Plant
Watered soil (moist soil) absorbs more solar heat than dry soil.
Reflect the heat during the night.
If you have large/big tree watering, sprinkling the water at the most coldest time of the day. Maybe from 4AM to 6AM this strategy works on latent heat released when water changes from liquid to solid. when the ice crystal forms on leaf surface they draw moisture from leaf tissue. Damage from this dehydration is less when plant is not draught stressed.
Pro TIP

To save plant, Pruning should be avoided just after the frost.
11. Using Well Drainable Soil For Curry Leaves Plant
Well-drainable soil also plays an important role, when you water if it stays moistened for a longer time curry leaf plant doesn't like that.
It likes more sun and doesn't like waterlogged soil. So choose good quality of well-drained soil. choose a good amount of potting soil, sand to make it well-drainable.
Final Thoughts:
I have used many of the above steps to protect my curry leaves plant from winter when I cannot provide enough sunlight to curry leaves plant, Please give your views in comments.
Curry leaves plants need full sun for good growth, It needs at least five to six hours of exposure to sunlight. If you stay in the place where winter is so chill and freezes. you need to plant it in the pot (needs to move inside when freezing ) otherwise it won't survive.