Top 9 Springfree Trampoline Problems:
The trampoline is one of the best Garden game to enjoy for kids, Adults. As many doctors say, it is not safe for kids to play without parents supervision.
In short, Due to daily use (wear and tear ) or improper installation, we face many problems with the Springfree trampoline. To reduce this, we need to take proper precautions/maintenance. Compared to the Spring trampoline, the Springfree trampoline is designed tough, from the triple-coated galvanized steel to the UV protected mat and net rods, which gives good safety and reliability. Despite all this, we still found many problems which are listed below.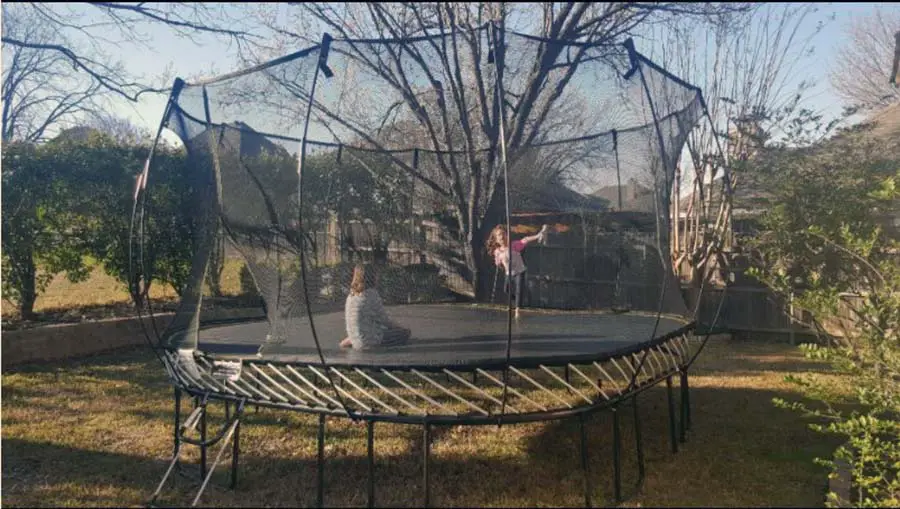 SN
Problem
Type
1
Trampoline base rods are not aligned to base land
Installation / wear & problem
2
Springfree Trampoline Not installed properly by contractor or Self-installation
Installation /wear &Tear
problem
3
After usage Mat and Net connection, the point is tearing apart
Wear and Tear problem
4
piece that holds the pole which is inserted into the mat is ripping out and the bottom of the net is tearing from the poles
Wear and Tear problem
5
How to fix the Hole problem in Trampoline?
Wear and Tear problem
6
To Reduce the occuring Of Springfree Trampoline general Problems
Knowledge problem
7
Trampoline Winter Care Problems
Weather Problem
8
Are Trampolines Problem?
safety gears problem
9
Be gentle with the zip of the Trampoline
Wear and Tear problem
1. Trampoline base rods are not aligned to base land or damaged.
One side of the rod is floating, and the other one is on the floor. In the above video, We can observe that the rods bent slightly; if Spring free trampoline is not installed correctly. To install newly or move from one place to another, proper care needs to be taken; otherwise, you should call a technician. Frequently wear and tear parts should be inspected.
2. Springfree Trampoline Not installed properly by contractor or Self-installation, Missing Rods, Bent or Broken Frame. (Lack of knowledge)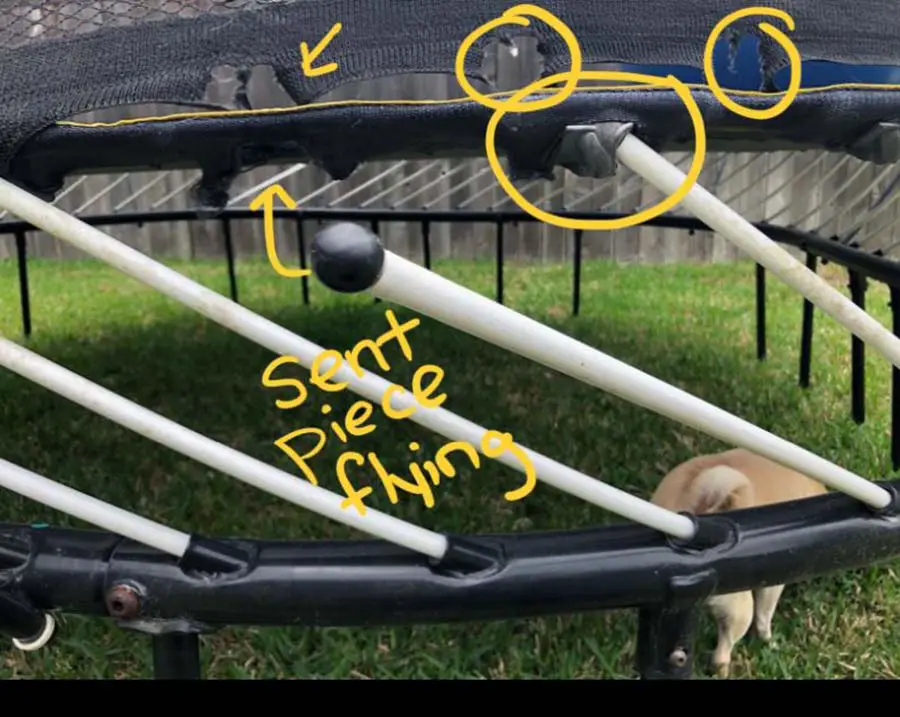 To overcome this, have listed steps to install a Springfree trampoline correctly.
Read the given installation directions.
Go to YOUTUBE and watch all the spring-free trampoline assembly videos. The crucial primary part is to put the "SAFETY NET BEFORE THE TRAMPOLINE MAT IS INSTALLED. "
Go and get your friends (especially the big ones physically, little friends not needed ). Now a round trampoline I don't think would be that bad, but the square one. Getting around the corners to install was the most intense thing, I have ever done regarding assembling a trampoline. The reality is you are literally bending one rod at a time, but as you get around the trampoline, you are now bending all of them.
How to fix this issue ?
3. After usage Mat and Net connection, the point is tearing apart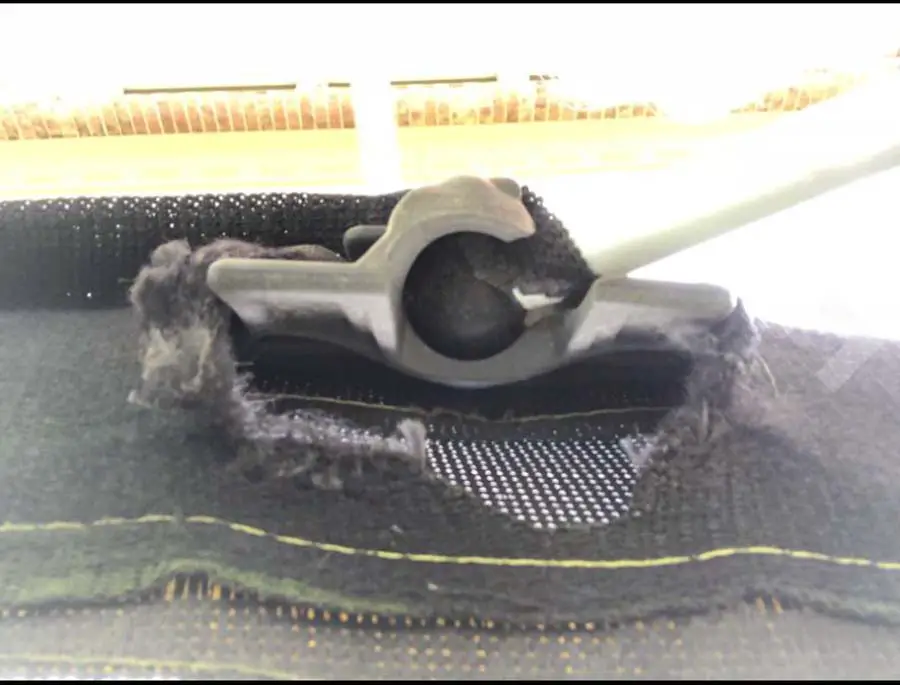 This problem comes because of wear and tear, harsh climate, heavyweight peoples are jumping on the trampoline, maybe more than two people jumping together on the trampoline. This one of them must be added to the checklist of the maintenance sheet.
4. The piece that holds the pole inserted into the mat is ripping out, and the bottom of the net is tearing from bars. ( Missing C-clips from the sockets on the frame )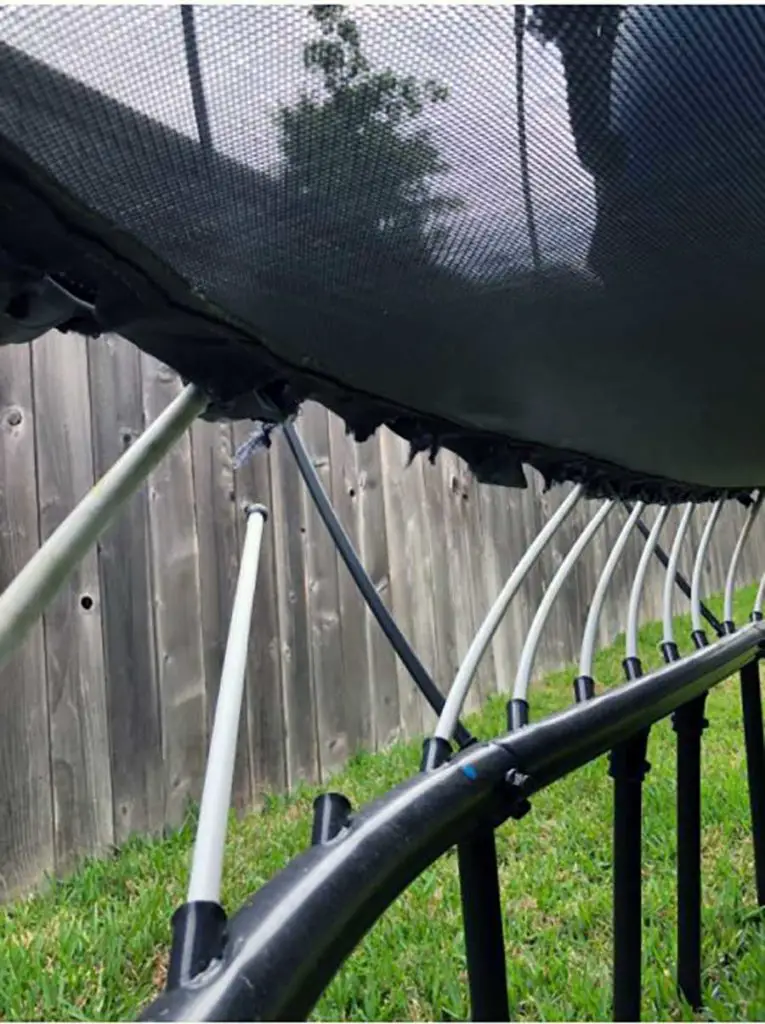 This problem is the same as the previous one and needs to be added to the maintenance checklist.
5. How to fix the Hole problem in Trampoline?
You should always check regularly for the hole in Trampoline. If you found any should be taken timely action; otherwise, it will lead to serious injuries.
Even if it is Costliest Trampoline due to daily use, it is normal to tear mats and nets.
It would be best if you did not allow trampoline mats, nets to develop holes; we don't even need to spend much on fixing holes. Small holes can be fixed without any problem at home.
1.Trampoline Repair kit

First, you need to buy a trampoline mat repair kit from an online store; you should use a sewing machine to sew at edges and do it 3-4 times to make it a strong patch.
You can also trim the extra piece that is hanging and make it look tidy. After fixing it back to the trampoline, you start jumping on the trampoline without having a fear of making a big hole.
2. Trampoline Repair Glue
If you don't have a sewing machine or if you don't know how to stitch, this option is best. Repair glue is available with many online suppliers.
In this case, you need to repeat the same method instead of stitching, you need to glue it.

You need to wait at least one day to dry before starting jumping on the trampoline. If you want to mat to look perfect, better to stitch than gluing it.
6. To Reduce the occuring Of Springfree Trampoline general Problems:
Do not take any sharp edge objects onto the Trampoline or near the trampoline this may tear down the trampoline mats.
Use softball on the Flex hoop (weight, the hardness of the ball) to make it gentle and reliable.
Do not leave the transparent balls on the mat. This will magnify the sun rays on them, making holes on the mat.
Don't jump on the side of the Trampoline; always try to jump in the center of the Trampoline.
Please avoid using the Flexinet as a jumping surface, while it is incredibly strong but not designed for consistent rebounding.
Keep your Trampoline in sunshade.
7. Trampoline Winter Care Problems
People who live in a cold climate also need to consider clearing away any accumulation of snow with a soft-bristled brush or broom regularly.
8. Are Trampolines Problem?
The majority of the cases don't come from the trampolines tool itself. but its how we misuse it or by carelessness. Nowadays Trampolines comes with high tech safety for adults, children.
Sometimes people don't install safety tools like a safety net or they don't install properly. This cannot replace with adult supervision. also, make a rule to play trampoline only with adult supervision.
Encourage kids to jump in the center of the mat. Both kids and adults should not try to stunt while jumping. Failed stunts lead to somersault or flip, or over-bending and over-extending your neck can cause severe injuries that involve the cervical spine. Spinal cord injuries can result in paralysis, permanent disability, or even death.
9. Be gentle with the zip of the Trampoline.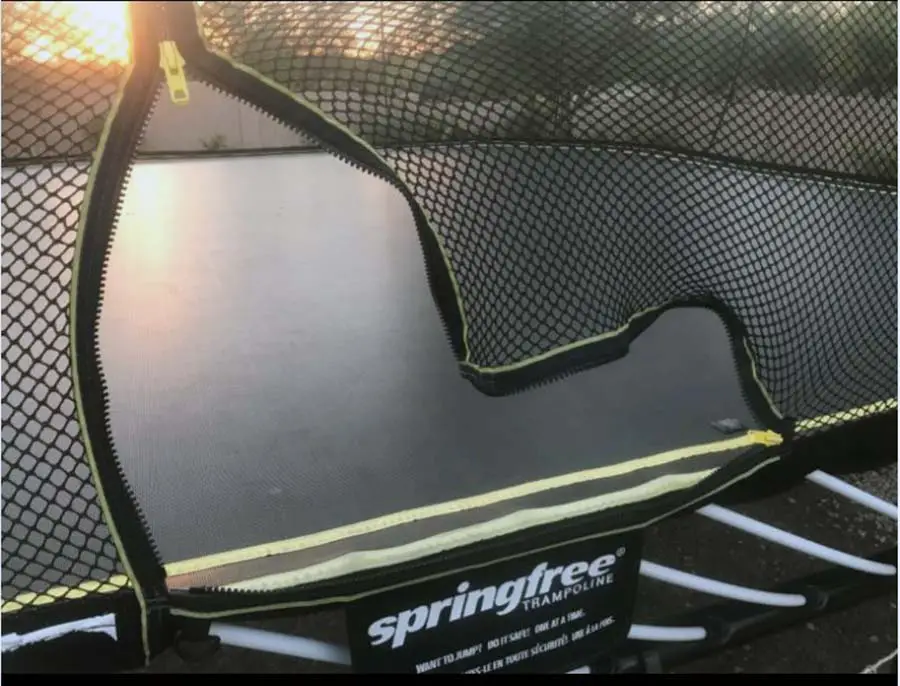 This can be added to the checklist of maintenance, this looks not so important but when you are jumping if your legs get stuck between zipping leads to injury.
How to Overcome Trampoline Problems?
1. Are High-Quality Trampoline is less problematic?
yes, Do not buy cheap trampoline such as low quality, weak rods, which cannot handle kids' weight. Buy which has a good quality of Basement rods, mat, frames.
If you buy good quality and high-cost trampoline also we need to do inspection regularly to check Trampoline is in good shape.
2. How to move trampoline without any problem?
1. Disassemble and move the trampoline method
The best way to move the springless trampoline is to disassemble first and fit it in a new place. However, this method is time-consuming and inconvenient. It's not easy to do, as well.
If you find it difficult and unsuccessful while assembling for the first time, you don't want to retake the same process. So its better or convenient way to move the trampoline without any equipment pieces is by lifting the trampoline and moving it to a new place.
If it is a mini trampoline, this works out for you easily. If it is a bigger one, you need to call your friends or other people to help mover your trampoline again. This is not easy.
2. Trampoline Wheels method
Trampoline wheels are more helpful if you want to move without any other people's help. This works out when you want to move trampoline with in house or from one part of the lawn to another. However, it won't support all kinds and shapes of the trampoline.
If you forget to remove wheels when kids are jumping on the trampoline, it leads to serious injury.
Trampoline wheels are versatile, easy, one adult can move the trampoline easily with in house or lawn.
3. Trampoline Sliding Method
This is also one method to move your trampoline from one place to another place, but this is not suggested as this may involve damaging the base rods. It's better to use the dismantle method or trampoline wheels method.
3. Clean Trampoline Mat to Overcome the Mat related Problems:
Wash the mat with water
Use a mild detergent or power washer if you got one.
Avoid using chemical detergents on the mat, it may corrode the material
Check on under mat for holders, check for cracks or missing holders.
Conclusion:
I have listed here the most common problems for Springfree trampoline, Be safe.